Welcome to the Official Fan Club of NEEDTOBREATHE. Join The Insiders for exclusive members-only access to monthly songs from the vault, early access to tickets, special event details and more.
Join the Insiders
Memberships
Join the Insiders

All Premium Membership perks
Best Of The Insiders Vol. 2 featuring nine of the band's hand-picked favorite Insiders songs on autographed vinyl & standard CD (ships 3-4 weeks after sign up)
Insiders vinyl slipmat (ships 3-4 weeks after sign up)
Insiders 2023 college-ruled hardback journal (ships 3-4 weeks after sign up)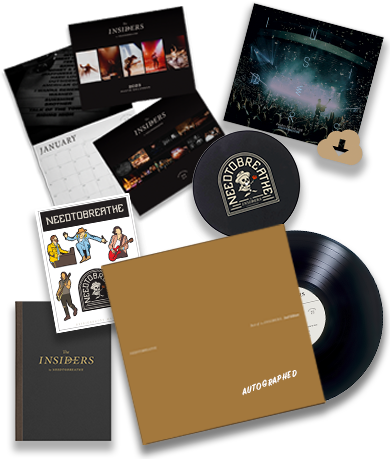 All Online Membership perks
The Insiders Vol. 10 digital download with bonus tracks (available in December)
2023 calendar with live photos from the past year (ships 3-4 weeks after sign up)
Magnet set (ships 3-4 weeks after sign up)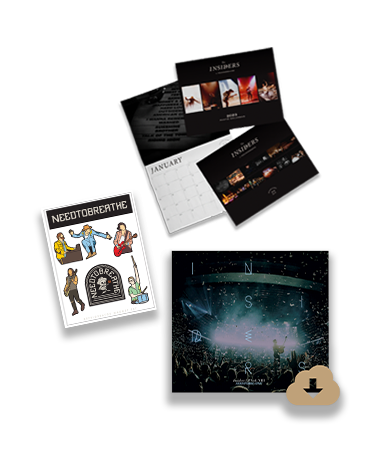 An Insiders-only exclusive live track to stream/download every month
Access to purchase the entire Insiders exclusive music catalog
Early access to headline tour pre-sales & VIP packages
Exclusive updates from the band
Already an insider?
Use your old login to keep access to all your music.
Sign-in by clicking here
System requirements: Any device with an internet connection can stream & view all content. A desktop computer is required when downloading music files directly from The Insiders.
TESTIMONIALS
NAME: COURTNEY ULTIMATE MEMBER MEMBER SINCE: 2019

" "

"…WHAT BETTER WAY TO PASS THE TIME BETWEEN CONCERTS THAN TO HAVE THE ABILITY TO LISTEN TO PREVIOUSLY UNRELEASED LIVE TRACKS FROM YOUR FAVORITE BAND IN MULTIPLE WAYS?"

NAME: ROB LEMMON ULTIMATE MEMBER MEMBER SINCE: 2014

" "

"…THE LIVE MUSIC IS THE REASON."

NAME: THERESA L. ULTIMATE MEMBER MEMBER SINCE: 2017

" "

"…I FOUND OUT ABOUT THE INSIDER TRACKS AND I IMMEDIATELY SIGNED UP AND HAVE NEVER LOOKED BACK!

NAME: LINDSEY ULTIMATE MEMBER MEMBER SINCE: 2020

" "

"…THE ONLY REGRET THAT I HAVE ABOUT THE INSIDERS IS THAT I DIDN'T JOIN SOONER."

NAME: CARRIE T. Premium MEMBER MEMBER SINCE: 2020

" "

…EARLY TICKET SALES ALONE ARE WORTH THE PRICE FOR ME!"
FAQ
HOW DO MEMBERSHIP RENEWALS WORK?

By default, all Insiders memberships are set to automatically renew on January 10th of each year. This is because music is the backbone of The Insiders and a new exclusive track is released each month that culminates in a full album. The renewal date is January 10th so that regardless of when you sign up, you'll receive all exclusive tracks from the year!

WHAT IF I DON'T WANT TO RENEW MY MEMBERSHIP?

We know goodbyes are tough! Members can cancel their membership at any time through their member dashboard. This immediately turns off the auto renewal setting and prevents a future charge from The Insiders to their card on file. They'll still be able to enjoy all the member benefits until the next renewal date on January 10th.

ARE REFUNDS AVAILABLE?

We work hard to make sure our members are satisfied with their purchase! If you have a concern with your Premium or Ultimate membership, please contact us at [email protected]. Refunds are not available for Online memberships.

WHO RUNS THE INSIDERS?

Bear, Seth, Josh, Randall and Tyler with the support of Team Insiders! Anything written without "-Team Insiders" is directly from the band. Team Insiders runs customer support and is always available for questions at [email protected].

HOW DO I LISTEN TO THE EXCLUSIVE INSIDERS MUSIC?

Members can stream their exclusive Insiders music directly from the music page or download it to put on any device. A .zip file containing both .mp3 and .wav files of the monthly tracks and end of year albums is available for download.

HOW DO I GIFT AN INSIDERS MEMBERSHIP?

An Insiders membership is the perfect gift for your NEEDTOBREATHE fan! You can gift a membership by creating an account, purchasing a membership and then inviting the recipient to update the payment information when they log in.

CAN I DECIDE TO UPGRADE OR DOWNGRADE MY MEMBERSHIP?

Yes! Members can choose a different membership plan at any time by visiting the "my subscription" tab on their member dashboard. If you're upgrading to a higher priced membership you'll be charged the difference. If you downgrade, no refund will be issued. When your membership renews, you'll be charged the full price of your new membership plan.

CAN I ACCESS MY INSIDERS MUSIC IF I DON'T HAVE AN ACTIVE INSIDERS MEMBERSHIP?

If you choose to end your Insiders membership, you will no longer have access to stream or download music. You will need to download your music before the end of your subscription.